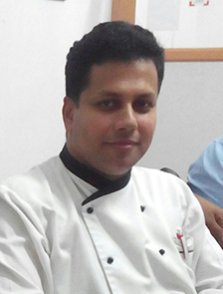 Educational Qualification : DHMCT, Diploma in Hospitality Management (AH&LA), BA – Hospitality Management – Bournemouth
Work Experience : 19 Years
Teaching : 7 Years
Industry : 12 Years
Area of Specializations : Food Production
Subjects teaching at Under Graduate level : Food Production
After completing my Graduation, I joined Orange County Resorts at Coorg as Front Office Assistant in the year, 1999. During my higher studies at Cyprus did part time job as Trainee Restaurant Supervisor at Louis Group of Hotels for a period of 18 months. After my higher studies, worked in Food And Beverage Service Department for a period of 03 years at Metropolitian Group of Hotels / Dubai till 2003 in Management Level. From 2003, started to work in Food Production Department in various hotels in Middle East with Metropolitan Brand till 2011. In the year 2011 joined Oriental Group HOD – FOOD PRODUCTION cum Chef Trainer.